A BLUE RIBBON DAY BECOMES A BLUE RIBBON SCHOOL
(Celebration of Joy and Mercy)
Wednesday, September 28, 2016 was a memorable day for our school community and guests gathered at the invitation in the gym for an assembly by Very Reverend Canon Robert G. Lynam, Pastor for an historic announcement.
Most Reverend James Checchio, Bishop of the Diocese of Metuchen, The Honorable Frank Gambatese, Mayor of South Brunswick, Councilman Joseph Camarota, Sr. Ascenza Tizzano, Provincial Superior of the Religious Teachers Filippini, who staff the school, Ellen Ayoub, Superintendent of the Diocese of Metuchen, Donna Kanowitz, Assistant Superintendent of the Diocese of Metuchen, Reverend Monsignor Michael Corona, Director of Catholic Education in the Diocese of Metuchen, Father Edmund Luciano, Director, Youth and Adult Ministry for the Diocese of Metuchen, Class of 1997, Deacon Denis Mayer, retired Physical Ed Teacher in Piscataway School District, former and interim Principals, Sister Alice Swartz, Mary Kedian and Kathy Lakarosky, and religious sisters of the Parish and staff were among the invited guests.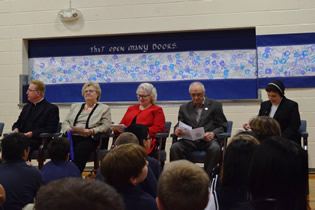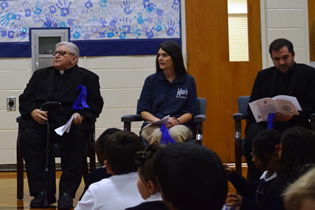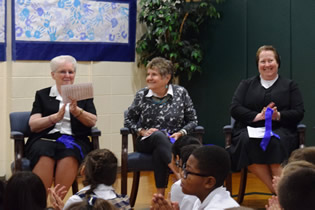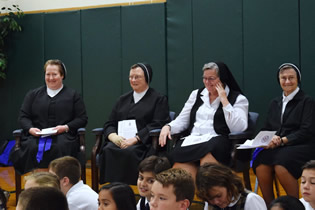 The Announcement Ceremony began with opening remarks by the school's Principal, Sister Mary Louise Shulas, MPF, followed by the school community reciting their Mission Statement, followed by song, "God Bless Our Catholic Schools." (Words written by Sister Barbara O'Kane, former Vice Principal, and sung to the tune of "God Bless America.")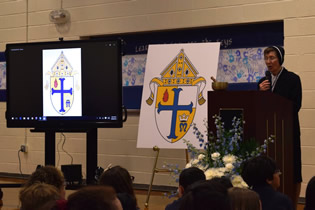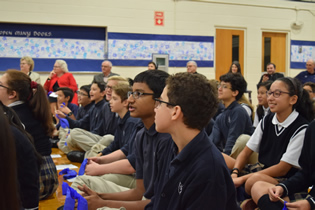 The auditorium echoed with the sounds of joyful music and song by the students, accompanied by the school's Music Director and music teacher, William Berg and Elena Shirman.
The moment arrived when John B. King, Secretary of the United States Department of Education, appeared on the large screen via YouTube explaining, "What is a Blue Ribbon School?" and who the 329 schools were. As the state's Blue Ribbon Schools were shown the anticipation heightened for the entire school community, pastor, principal, parents and invited guests, faculty, staff and students (Pre-K 3-Grade 8) with blue hand-made streamers in hand and bags of blue confetti were ready. Everyone jumped up and burst into sounds of joy and warm words of pride.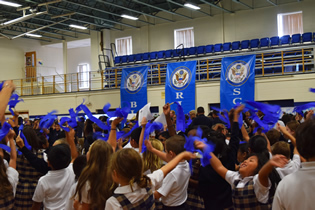 Click here to see Secretary King's announcement of the 2016 National Blue Ribbon Schools
(St. Augustine of Canterbury School is recognized at 13:41)
Then the Bishop of Metuchen appeared via Skype on the Aquos Board with a wide welcoming and a congratulatory smile and words, as spectacular banners (designed by our Pastor, Father Bob) unfurled on either side of the auditorium. The outside of the school is now adorned by them. (Photo of Bishop Checchio in his office courtesy of Erin Friedlander, Diocese of Metuchen Office of Communications.)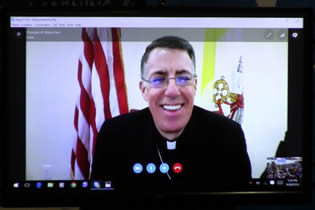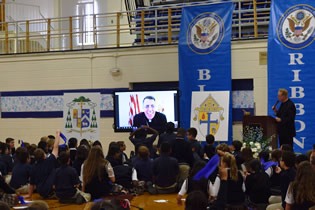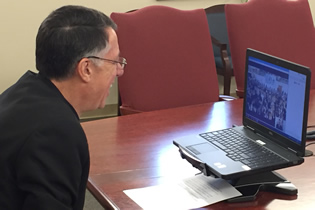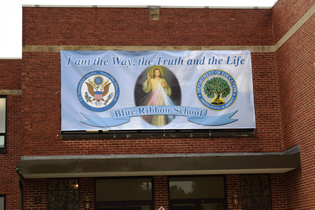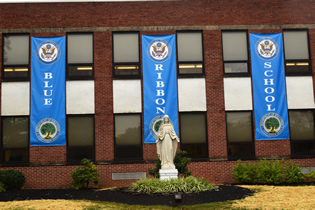 The assembly ended with shouts of joy to the song, "Celebrate." On Thursday, the celebration continued with free lunch and a make you own sundae, all thanks to Father Bob.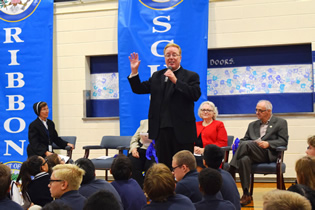 A historic announcement that confirmed and affirmed that St.A's is an extraordinary school with extraordinary teaching and learning supported by an extraordinary community.