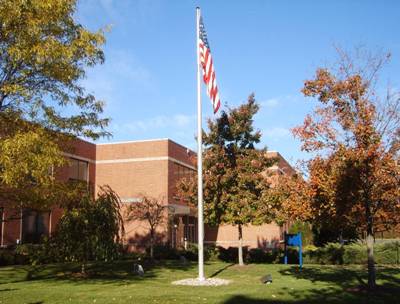 St. Augustine provides many engaging opportunities to enrich the students' extra-curricular activities . Throughout the year students are encouraged to participate in activities that include spiritual growth, service, arts, sports, and academics. Since Religion is the core of our program these activities reflect our Catholic values. Students enjoy a variety of field trips, assemblies and guest speakers. St. Augustine's remembers those in need in our community through service programs. The following is a list of some of the opportunities, both curricular and extra curricular, that are offered to our children:
RELIGION:
School Liturgies (K-8)
Stations of the Cross
Sacrament of Reconciliation
Sacrament of Confirmation
First Holy Communion
Altar Servers
SERVICE PROJECTS:
Thanksgiving Food Drive
Spiritual Service Clubs
Christmas Giving Tree
Collections for St. Vincent De PaulHoliday Projects for the Nursing Homes
Bake Sales
Earth Day Clean-up
Student Council Food Pantry Shopping
Easter Baskets for the Needy
MUSIC:
Recorders (Grade 3)
Future Musicians-Band (Grades 4-8)
Private Piano/Guitar Lessons
SPORTS:
Basketball –Boys and Girls
Girls Softball (Grades 6 – 8)Basketball (Grades 1 & 2) Non-Competitive
Volleyball (Coed) (Grades 6 – 8)
Cheerleading (Grades 3 – 8)
ACTIVITIES:
Geography Bee
Geography Club
Pre-Kindergarten Celebrations
Seasonal Concerts
Scouts
Comp Tech
Student Council
Canterbury Writing Mastery Club
Mad Science Classes (Grades K-5)
Seasonal Plays
Safety Patrol
Field Day
DARE (Grade 5)
Scrapbook Club
Newspaper Club
Spanish Club
Odyssey of the Mind
KTN Student Television Broadcast
Field Trips
ACADEMIC/ATHLETIC AWARDS:
Knights of Accomplishment
Honor Roll
Scholastic Awards / Athletic Awards
People to People World Leadership
Graduation/Scholarship Awards
Merit Poetry Awards
National Young Leaders State
National Junior Honor Society Conference - Princeton
St. Augustine of Canterbury School has both morning and afternoon bus transportation available for all students. Bus drivers pick-up and drop-off their passengers at central bus stop locations. Currently, there are four buses that transport students to various sections of South Brunswick, two buses for Franklin Park, two buses that travel to North Brunswick. In addition, some townships in the area provide reimbursement in lieu of bus service. A group of responsible and reliable students in the Seventh and Eighth grades make up our school's Safety Patrol. These students assist other students in several ways:
In the morning, Safety Patrol members are posted at each entrance in order to help small children off the buses and out of their parents' cars. 
After school, their job includes: helping students find their buses, assisting them in boarding, ensuring that all classes have left the building before buses depart.
All inquiries regarding busing services should be made to your Board of Education Transportation Department: 
South Brunswick Board of Education: (732) 297-7800
North Brunswick Board of Education: (732) 297-9000
Franklin Board of Education: (732) 828-6620