Alumni News


We are proud of our graduates! Please send us your achievements.
Continue to shine and share the Good News!
The following members of the St. Augustine School Class of 2012 were presented with awards at the Bishop George Ahr High School Principal's Senior Academic Awards Ceremony on May 31, 2016:

Lauren Borowick - Excellence in Latin, Senior Distinguished Honors
Cara Lescott - Benjamin Banneker Award for Excellence in Science, Senior Distinguished Honors, Top 10% Class of 2016
Lauren Machalany - Bishop Bootkoski Religious Award (Excellence in Religion), St. Vincent de Paul Award
Victoria Olexsa - Senior Distinguished Honors
Alexander Woodrow - Top 10% Class of 2016
---
Allison Russell (Class of 2014), Clarissa Ting (Class of 2014), and Megan Lyttle (Class of 2015) have been selected to join the Immaculata High School Wood Winds Concert Band in September for the 2016-2017 school year. For Megan, who will be a Sophomore, this is an exceptional achievement as membership in this band is usually reserved for Juniors and Seniors. Congratulations to our young aspiring musicians!
---
Sara and Molly Balsamo (Class of 2015) and Meredith Siegeler (Class of 2012) displayed their art portfolios at the Immaculata High School Art Show on May 19, 2016. Also featured were works of art by Tomas Minsavage, son of St. A's art teacher Mrs. Christine Minsavage. We are so proud of our graduates and their creative talents and look forward to seeing more of their work in the future!


Sara Balsamo

Meredith Siegeler

Molly Balsamo

Tomas Minsavage
---



Sean Sheppard. (Embrace website)

Sean Paul Sheppard (Class of 1982) is the CEO of a nonprofit organization called Embrace, which he founded in 2000. Embrace "seeks to mobilize local college students to help those in need in the San Diego county area." Sean is a graduate of Georgetown University. Click below to read an article about Sean and his organization's work on the Georgetown University Alumni website:

Georgetown Alumnus Embraces Local Veteran Community
---
Shannon Boyle (Class of 2005) has been selected for a highly prestigious 10-week summer intern program at the Lunar and Planetary Institute (LPI) - NASA Johnson Space Center (JSC) in Houston, TX. She is one of only 10 to 12 students worldwide who will participate in this program. Shannon is currently an undergraduate student in the Department of Earth and Planetary Sciences (EPS) at Rutgers University - New Brunswick. She holds a degree in Astrophysics from Boston University, and will enter the Ph.D. program in Planetary Science at Rutgers University this fall.

Additional information available here:
EPS undergraduates receive prestigious NASA summer internships
-- Rutgers EPS website



Shannon (right) with fellow student Liam Hoare and EPS Professor Juliane Gross. (EPS website photo)
---

Lauren Zastko (front row, 2nd from left) with the Mount Saint Mary Academy Euro Challenge team. (Michelle Daino photo; The Catholic Spirit, March 10, 2016)
Lauren Zastko (Class of 2014) is a member of Euro Challenge team at Mount Saint Mary Academy. The Euro Challenge is an academic competition for high school freshmen and sophomores to learn about the euro and the European Union. Lauren and the team participated in the Euro Challenge Institute at Rutgers University - New Brunswick in preparation for their recent regional competition.

Team Work - The Catholic Spirit - March 10, 2016 - Page 16
---
Logan Stahl (Class of 2010) is among a select group of second-year students being recognized for outstanding academic achievement at Rutgers University - New Brunswick with the Rutgers 2016 Academic Excellence Award. This award is given by the university to the top 10% of sophomores at Rutgers based on GPA performance in their respective schools. Logan will be honored with the students from the School of Engineering. The award will be presented at a recognition ceremony at the College Avenue Gym on Sunday, April 10, 2016. Congratulations from the entire St. Augustine School family!
---
Alexa Pastor (Class of 2005) is now an Editorial Assistant in the Children's Publishing Division of Simon & Schuster in New York City. Recently, Alexa was kind enough to donate a selection of books to the St. Augustine School library. Thank you for your generous gift, which will be enjoyed by St. A's students for years to come!
---
The following St. A's alumni from the Class of 2015 received awards after their first semester of freshman year at Notre Dame High School:

Rage B. - Honors Geometry class award and Spanish class award; Honor roll of Distinction
Karissa C. - Honor roll of Distinction
Joe O. - Health class award
Fynn P. - Honor roll of Distinction
---



Daniel Chedid (CCM website photo)

Daniel Chedid (Class of 2007) continues doing God's work serving as a leader of the Catholic Campus Ministry (CCM) at the University of Central Florida (UCF) in Orlando. The Ministry "invites students, faculty, staff and administrators of the University community to a deeper living out of their Christian vocation as agents and instruments of God's reign, particularly within the university context, and equips them for more faithful and effective leadership in the Church and in the world."

Click the link below to read Daniel's latest CCM Newsletter:
Daniel Chedid - CCM Dec.-Jan 2015-16: "Back to Work"
---
On Sunday, October 18, 2015, Lauren Machalany (Class of 2012), currently a student at Bishop Ahr High School, was among the recipients of the St. Timothy Award at the 5:00 pm liturgy at The Metuchen Diocesan Center, Piscataway, NJ. Bishop Bootkoski bestowed the award to young adults in the Diocese of Metuchen who were nominated by their school/parish because they are leaders in their schools/parish, are actively involved in their parish and/or school, live as a disciple of Christ, set a positive example for other youth, and demonstrate Gospel values through spirituality, prayer and service to others.

Congratulations Lauren-we are so proud of you!



Lauren Machalany (pictured far left)
---
| | |
| --- | --- |
| LT Andrew Sheehy and LTJG Chelsea Sheehy | Ensign Chelsea Sheehy (Class of 2006) was recently promoted this November 2015 to Lieutenant Junior Grade in the Coast Guard. Her brother, Lieutenant Andrew Sheehy (Class of 2003) was present to put on her new Lieutenant Junior Grade shoulder boards. |
---
Several St. Augustine School alumni received awards at the St. Joseph High School Senior Awards Night on Tuesday, May 26, 2015:
Most Valuable Player, Bowling - Christopher Quigley (underclassman)
Coach's Award, Winter Track - Alexander Borowick
Most Valuable Player, Tennis - Logan Bell

Cum Laude - Brett Fitzgerald, Christpher Morisi
Magna Cum Laude - Alexander Borowick, Alrick Cabales, Spencer Cap, Mark Haddad
Summa Cum Laude - Joseph Pulikeyil

Edison Rotary Seniors of the Month - Logan Bell, Joseph Pulikeyil

United States Air Force Academy Appointment - Spencer Cap

National German Exam Bronze Award - Alrick Cabales
Congratulations to all the honorees!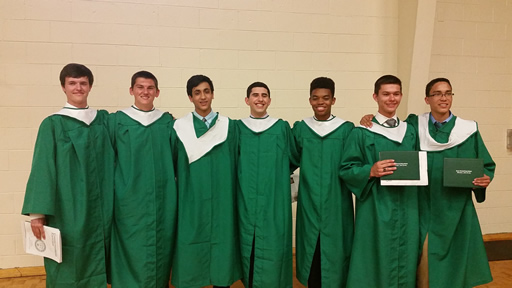 ---
| | |
| --- | --- |
| Andrew Sheehy is seen above promoting to the rank of Lieutenant and receiving his permanent TACLET pin alongside his sister Chelsea (Class of 2006). | Tactical Law Enforcement Team (TACLET) South is a part of the Deployable Specialized Forces of the United States Coast Guard and its primary mission is to prevent illicit narcotics from entering U.S. soil. Andrew Sheehy (Class of 2003) is the Officer in Charge of law enforcement detachment 406 comprised of eight total members. |
---
Rachel Rivera (Class of 2011) has been named Valedictorian of the Bishop George Ahr High School Class of 2015. Congratulations on achieving this great honor!

Rachel (center) with siblings Anna and Michael,
who are currently students at St. Augustine School.
---
Christina Canvin (Class of 2003) has joined the crew of the USS Mitscher, a guided missile destroyer deployed in the Middle East for the past several months. Christina is a graduate of the US Coast Guard Academy and was asked by the Navy to be their Navigation Officer on this deployment. Her duties include overseeing the Medical Dept., mentoring / training 18 ensigns, and plotting the ship's course. She will be given her full Lieutenant stripes next month at sea.
Below is a short video featuring Christina and her fellow women officers aboard the Mitscher.