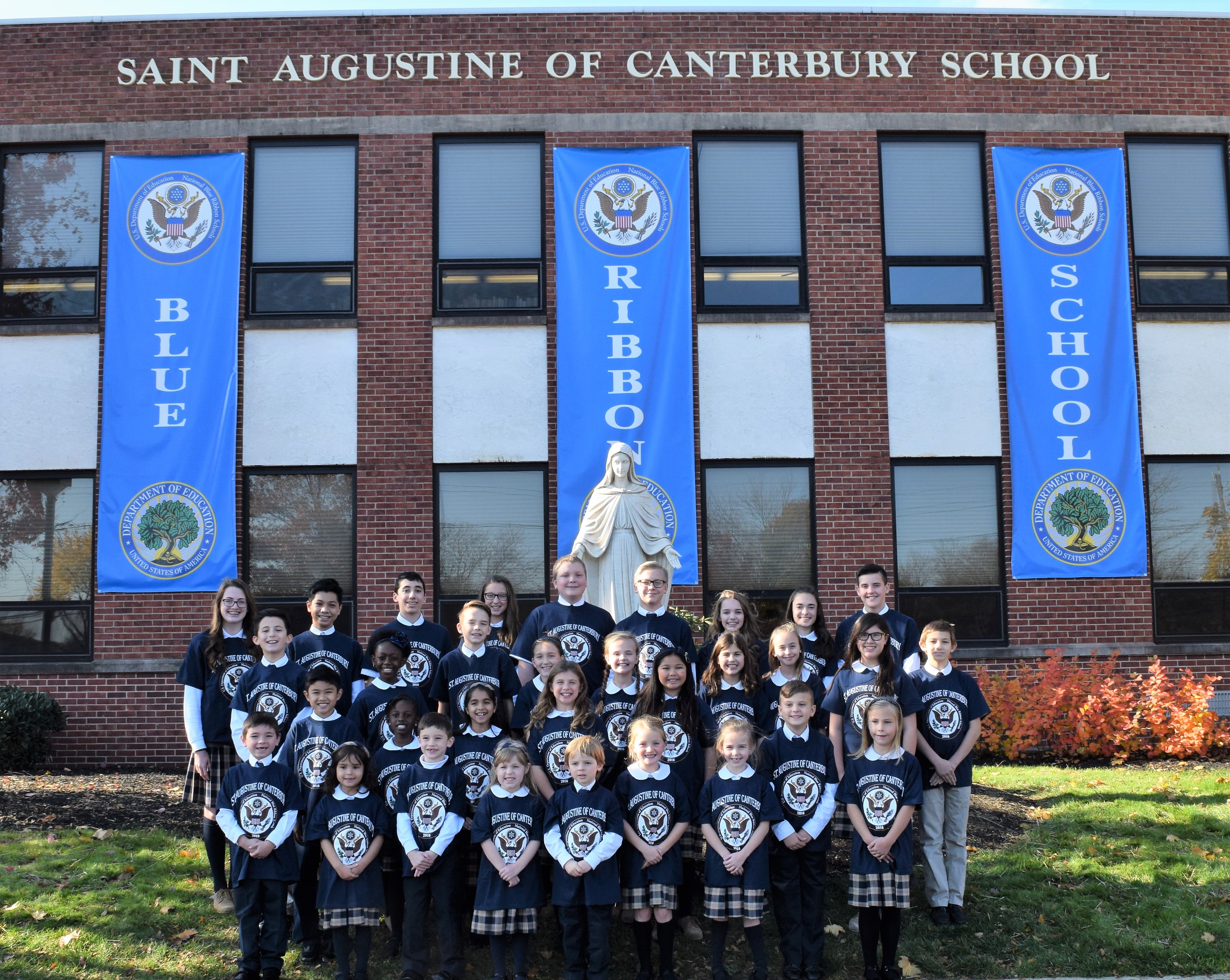 What are the enrollment procedures?

Saint Augustine of Canterbury School seeks students with academic ability, responsibility, motivation and initiative to succeed in a unique Catholic Parish Elementary School. It does not discriminate on the basis of race, color, national or ethnic background. While the philosophy and education is steeped in Catholic principles and values, Saint Augustine welcomes students with other religious backgrounds. Submit a completed application with the requested information listed on the packet, and then an interview will be scheduled with the principal. For questions call the office or e-mail us.
Who may apply for admission to Saint Augustine of Canterbury School?

Admission of students is determined on the following priorities:
St. Augustine parishioners who are registered with the parish and are faithful to the Faith Covenant and use their envelopes
Parishioners of surrounding parishes who do not have a parish school
New Catholic families
Non-Catholics
Catholic students who have siblings already enrolled will be given priority.
What are the school hours?

School begins at 7:50 AM and dismisses at 2:00 PM. The tardy bell rings at 8:00 AM. One day a month dismissal is at 12:00 PM for Professional Development for our faculty and staff.
Is there an After School Program?

For an additional cost an after school program (ASP) is available for Pre- K 3 through Grade 8. Each age group has a teacher and aide/s, a separate large equipped room, supervised homework, gym or outdoor play, and an art project and time for free play and talking together. Many of the students enjoy learning how to sew, knit, and crochet. Students build friendships in a "family spirit."
Is there a hot lunch program?

The students may buy lunch or bring lunch from home. Hot lunch is provided by a staff who are parents of alumnae or grandparents. A menu calendar is provided each month and can be accessed on our website. Friday is a favorite day with pizza from a Pizzeria. Hot lunch is paid for daily in the cafeteria. Cereal, salad, milk, water, tea, desserts and snacks are available. Staff and parent volunteers supervise the students during their lunch period. We also offer a safe environment for students with food allergies.
Is the building well maintained and safe?

St. Augustine of Canterbury School is unique in that it takes pride to keep the facilities well-maintained, clean and safe. The building is fully air-conditioned including the gym and the cafeteria. Each classroom has a thermostat. In addition, there are surveillance cameras in the entrances of the building, in each wing and in the outside areas of the school. The doors are locked at all times. One must ring the door bell to gain entrance into the school or after school program. There are Security Cameras throughout the building and surrounding areas.
What provisions are made for with students who have allergies or have health issues which may require a nurse?

A full time qualified nurse is available every day during school hours. Our school nurse also provides training for our teachers, extended staff, coaches and parents in CPR, asthma, the use of the Epi-pen, and first aid. A log of students with allergies is created by the nurse and disseminated to the faculty and staff and those who minister to the students during our care. The log contains what allergies the child has. Medication is administered only by the nurse. She is always available to answer questions. She also does the yearly screenings for height, weight, vision, and hearing. Students receive instruction in health-related topics, such as germ education, general safety, drug abuse prevention, and food allergy awareness. Our eighth grade receives basic CPR training.
How are the students assessed?

Students are assessed through teacher tests, quizzes, class work/participation, projects and homework. Parents have daily access to their child's grades through the use of a password for the program called Power School. Progress reports and report cards are distributed at the end of each quarter with the exception of Kindergarten. They are given a report card in the second semester.

In addition, the students in Grades 2-8 are administered the multiple choice and written form of the Terra Nova Tests. When combined with ongoing teacher assessments, the test results allow us to monitor our overall progress and to plan for individual and school-wide improvement. St. Augustine is proud to say that the scores exceed the Diocesan and National averages.

Our staff communicates regularly with families to keep them well-informed about their child's progress. The faculty is readily available to provide reinforcement and enrichment for the students.
Are there student support services/transportation available?

Transportation is available from the surrounding areas of: North Brunswick, South Brunswick and Franklin Township. Reimbursement is given to those families who need to transport from the areas that do not provide bus transportation.

Compensatory Education is provided through the Middlesex County Commission. This program provides academic support for the students during the day who qualify. Speech and language intervention and remediation are also provided at St. Augustine for students who are in need. The teachers are fully certified and qualified. They work closely with the classroom teacher and our parents. The students are taught in one of our beautiful classrooms in our elementary school wing.
What is the tuition?

The Fair Share Tuition Plan invites Catholic school parents to take real ownership of the importance of sending their child (ren) to our school. The Fair Share Tuition Plan, in an atmosphere of trust, invites the families to look at their gross family income, and without presenting any W-2 forms, they circle the amount of tuition they are able to pay based on their income and family circumstances. In addition to the Fair Share Tuition Plan, the parish adopted "tithing" as a way of life. We have a faith community which has been able to address many improvements in our school.
Is tuition assistance available?

Tuition assistance is available through a ten /eleven month tuition program and tuition assistance through the diocese by completing an application, meeting the criteria and applying by the given deadline. Additional assistance is awarded to a number of families through a Diocesan fund called the "Tuition Angels."