Saint Augustine of Canterbury School
Class of 2018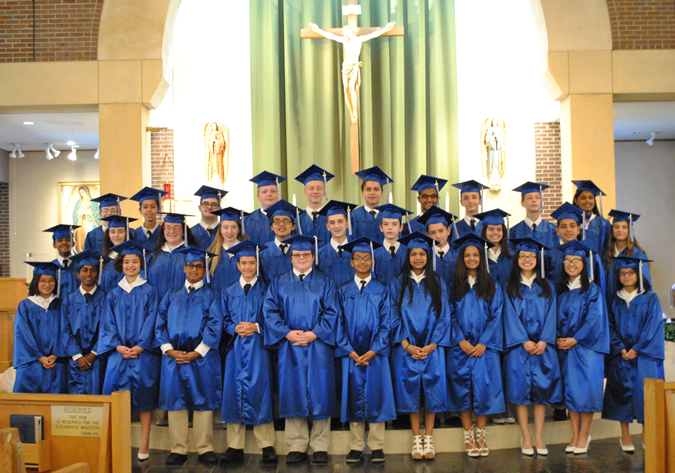 | | | | |
| --- | --- | --- | --- |
| Zafir A. | Aryan G. | Jennifer P. | Madison Q. |
| Spencer A. | Daelan H. | Harsh P. | Matthew S. |
| Diana A. | Maegan H. | Kobyn P. | Giovanni S. |
| Istvan B. | Ryan K. | Siphina P. | Abel S. |
| Lily B. | Bence K. | William P. | Madison T. |
| Sophia C. | Scott L. | Madison R. | Ricardo V. |
| Angela C. | Ryan M. | Michael R. | Everett W. |
| Kyrollos F. | Thomas M. | Ayana R. | Matthew W. |
| Vyshnavi G. | Akshat N. | | |
---
---
2018 GRADUATION AWARDS
Medals are awarded to the following students who have displayed exemplary work in a certain subject area.

Gold Medal
Silver Medal
Religious Studies
Angela C.
Madison Q.
Language Arts
Angela C.
Madison Q.
Mathematics
Daelan H.
Ryan M.
Algebra
Matthew S.
Angela C.
Social Studies
Angela C.
Maegan H.
Science
Angela C.
Matthew S.
Technology
Matthew S.
Abel S.
World Language
Michael R.
Matthew S.
Physical Education
Ricardo V.
Madison T.
Fine Arts
Ayana R.
Daelan H.
Outstanding Academic Performance
in All Subject Areas
Angela C.
Madison Q.
| | | |
| --- | --- | --- |
| Presidential Academic Excellence Award: | Angela C. | Madison R. |
| | Maegan H. | Michael R. |
| | Bence K. | Ayana R. |
| | Siphina P. | Matthew S. |
| | Madison Q. | Abel S. |
| | | |
| --- | --- | --- |
| President's Achievement Award: | Zafir A. | Thomas M. |
| | Spencer A. | Jennifer P. |
| | Istvan B. | Everett W. |
| | Lily B. | |
| | |
| --- | --- |
| Columbiette Confirmandi Saint Award: | Jennifer P. |
| | |
| --- | --- |
| Notre Dame High School Academic Scholarship Award: | Madison Q. |
| | |
| --- | --- |
| Saint Lucy Filippini and Cardinal Barbarigo Award: | Lily B. and Michael R. |
| | |
| --- | --- |
| Father Reilly Memorial Award: | Istvan B. |
| | |
| --- | --- |
| Monsignor Capano Scholarship: | Angela C. |
| | |
| --- | --- |
| Brother Robert Sheeley Scholarship: | Matthew S. |
| | |
| --- | --- |
| St. Joseph High School Alumni Scholarship Award: | Abel S. and Ricardo V. |